Welcome to Asia Pacific Vascular Society
Formed in 2009
Collaborations with International & National Societies
International Society of Endovascular Specialists, USA
Society for Cardiac Angiography and Interventions, USA
Moroccan Society of Endovascular Specialists, Morocco
Vascular Society of India
Indian College of Cardiology
Cardiological Society of India
Endovascular Intervention Society of India
Association of Vascular Access and Interventional Renal Physicians (AVATAR)
Complex Cardiovascular Catheter Therapeutics (C3)
Arterial and Venous Endovascular Conference (CVC)
Taiwan Transcatheter Therapeutics (TTT)
Trans Catheter Therapeutics – India (TCT India Next)
Asian Interventional Cardiovascular Therapeutics (AICT)
Asia Pacific Society of Infection Control (APSIC)
National Intervention Council (NIC)
Top to Toe Transcatheter Solutions (4TS)
Asian Pacific Society of Interventional Cardiology (APSIC)
Asian Interventional Cardiovascular Therapeutics (AICT)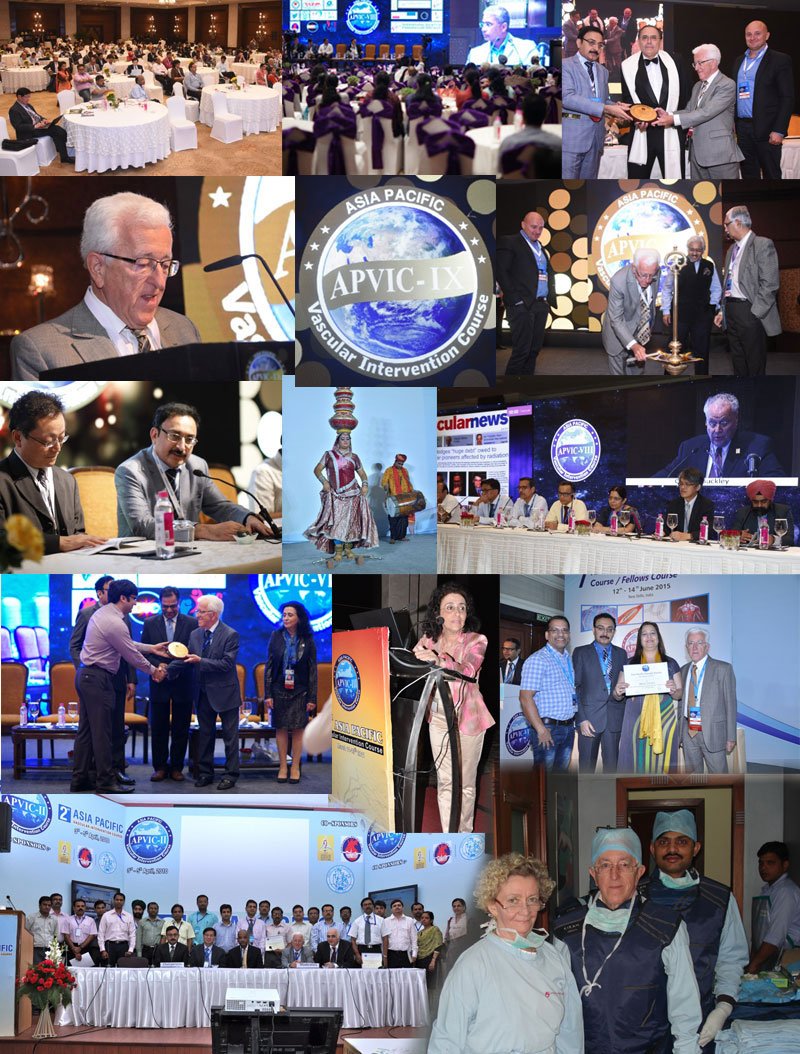 APVIC Highlights
APVIC commenced on 18th April, 2009, at Indraprastha Apollo Hospital and ETHICON Institute of Surgical Education, New Delhi. It was inaugurated by one of the most eminent, dynamic and senior most cardiologist of our country Dr. S. Padmavati.
APVIC entered its second year on 3rd – 5th April 2010, at the Indraprastha Apollo Hospital, New Delhi. It was inaugurated by the world renowned Endovascular Interventionalist Dr. Michel Henry from France. APVIC collaborated with Cardiological Society of India (CSI), Indian College of Cardiology (ICC) and Endovascular Interventional Society of India.
APVIC – III (11 – 13th March, 2011) opened new horizon for cardiovascular health professionals by collaborating with ISES & SCAI (USA). The mission of APVIC came alive by introducing the Fellows Course in association with ISES and SCAI. APVIC included live cases, Workshops on vascular imaging, vascular access closure devices, endovascular aortic repairs (EVAR, TEVAR), below knee intervention and dialysis access interventions.
8-10 June, 2012: 1st APVS Summit on Aortic Interventions (ASAI) was introduced, dedicated to Aortic Dissection, Aneurysms, Hybrid Procedure, Branch and Fenestrated Graft, Chimney Grafts, Percutaneous Aortic Valve Implantation. APVS – LEGS FOR LIFE PROGRAMME and APVIC ON THE ROAD PROGRAMME (on-site training in different cities of India) added a new dimension to APVIC – IV. Inaugurated by Dr. Edward Diethrich, Founder Chairman, ISES (USA).
14 – 16th June, 2013: The highlight of the conference was APVS-CORDIS – IRONMAN competition. It included the most challenging and unusual cases with out of the box thinking. For the first time, free membership of ISES, was awarded to the three winners of APVS – Iron Man. Inaugurated by Dr. Donald Reid, President of International Society of Endovascular Specialists (USA).

Thank you once again for the possibility to be part of this extremely successful and valuable scientific meeting!

It appears your meeting was a great success.
Congratulations!

I would like to congratulate you for APVIC VIII
It's a great and wonderful meeting
Excellent organisation, excellent hot topics leading to create platform for exchanges between experts over the world

Thanks for inviting your prestigious meeting. It was an honour to part of it. I am congratulating you for the grand success of the conference. Wishing you all the best for your future endeavours

We have been impressed dear Doctor Khanna by the high scientific quality and the world-class organization of the 8th edition of the Asia Pacific Vascular Intervention Course. The venue was elegant and appropriate to this large sized meeting. All the participants were very active and open to constructive discussion
APVIC on the Road
The inception of APVIC was with the motive of bringing the endovascular physicians in Asia Pacific region in tandem and at par with the international expertise today. Bringing together, the leaders and experts in the field of endovascular interventions in order to highlight the progress in Endovascular science in the management of even the most complicated stages of Peripheral Vascular Disease (PVD) and spanning vessels all across the body effectively and efficiently have been missions of APVIC.